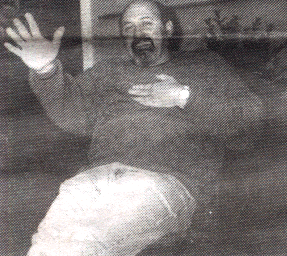 Jure Lasic a tribute to a friend and prominent figure in the Australian Croatian Community
TRAGICNA POGIBIJA JURE i ANTE LASICA
CROATIAN
Desetak minuta prije sest sati poslije podne 4. Listopada 1999. u Melbourneu, u prometnoj nesreci, poginuo je jedan od najistaknutijih ljudi u hrvatskoj zajednici u Melbourneu, Australiju, Gosp.Jure Lasic.
U istoj prometnoj nesreci u, koja se dogodila u Thomastownu (gradic u Melbourneu), tesko su nastradala i njegova dva dvadesettrogodisnja sina blizanca Ante i Ivica. usprkos teskim ozljedama, ivica se nalazi u stanju koje lijecnici ocjenjuju "izvan zivotne opasnosti". Medisinska se ekipa u Alfred Hospital dva dana borila za Antin zivot, odrzavajuci ga uz pomoc aparata, s neizvjenim ishodom. Preminuo je 7. listopada, malo iza podne…
Jure lasic rodio se prije 46 godina u selu Sumet, u imotskoj Krajini, kao jedan od tri sina, uz jos dvije sestre, u istaknutoj obitelj hrvatskih domoljuba. Zivot je njegova brata, takoder krstenog Juru, a u obitelji zvana Ivo, odvela u njemacku, kao mladu sestru mariju, dok je starijasestra Andelka, udana za Valdu Grbavca, s Jurom, kojega je obitelj zvala Miro, pocetkom sedamdesetih stigla u Australiju. Najmladi Zvonko, sa svojom obitelji, te starim ocem antom i majkom Ankom, ostao je zivjeti u Imotskom.
Jure Lasic emigrirao je ne htijucisluziti u postrojbama Titove jugoslovenske vojske, te je iz Njemacke 1972. stigao u Melbourneu. Radio je kao gradevinski radnik, teskim poslom osiguravsi dom u St.albansu(gradic u Melbourneu) za sebe i svoju suprugu Selinu, te svojih troje djece, Antu ,Ivicu i danas osmogodisnju Slavu.
Jure lasic bio je blizak vodstvu australskih radnickih sindikata, te je jedno kratko vrijeme i izdvao novine "Hrvatski socijalist", zastupajuci ideju politicke sarolikosti unutar hrvatske emigranske zajednice. Kao clan Hrvatskoga drzavotvornog pokreta, te jedan od utemeljitelja organiziranog djelova djelovanja busicevske ideje, isticao se u mnogim grupnim i pojedinacnim akcijama, od prisustvovanja do organiziranja demonstarcija, preko visednevnih strajkovagladu za oslobadanje hrvatskih politickih zatvorenika, sve do prokrivenoga ili otvorenoga lobiranja u australskim politickim krugovima za interese hrvatske drzavne samostalnosti.
Dugih osam godina, od prosinca 1991. do svibnja 1999. uredivao je i vodio program Hrvatskog radio Vukovara, na Community Radio 3CR, kojemu je bio i pokretacem. Putem Hrvatskog radioVukovara, prikupljenja je znacajna materijalna i novcana pomoc za domovinu u ratu, bilo da je rijec o potpori za ranjenike Trece imotske bojne, bilo da je rijec o tehnickim sredstvima za 204. brigadu vukovraskih veterana, bilo da je rijec o golemim novcanim sredstvima upucenima na racun Radio postaje Vukovar u Hrvatskoj, bilo da je rijec o vozilama napunjenima lijekovima koje je Jure u lipnju 1992. predao casnicima 3. osjecke brigade za ratiste u Bosanskoj posavini, bilo da je rijec o tehnickim sredstvima za klinicko -bolnicki centar Rebro u Zagrebu, bilo da je rijec o sredstvima za radio postaje u srednjoj Bosni, Novoj Gradisci, Pazinu Gospicu, Sibeniku, itd.
Od pocetka 1995. Jure je vodio i uredivao, prvi u povijesti, austraski televizijski program na hrvatskom jeziku, na tv – postaji channel 31, takoder pod imenom Hrvatska televizija Vukovar…
Jure Lasic bio je snazan i hrabar covjek, ciji metodicki beskompromisan radikalizam pocesto nije nailazio na razumjevanje obicnog puka, no koji je nesebicno, bez ostatka, vjerovao u svoju Hrvatsku, u svoje ideje i u svoju obitelj…
Neka dragi bog podari vjecni pokoj dusi Antinoj i Jurinoj
Mate Basic
Hrvatski Vjesnik – Melbourne Australia
Petak, 8. listopada 1999.
Stranica – 13
ENGLISH
TRAGIC DEATH OF JURE AND ANTE LASIC
Ten minutes to six pm on the 4th of October 1999. in Melbourne Australia, in the peak hour traffic three members of the Croatian community met with an unfortunate and tragic accident on the Rings Road in Thomastown(a suburb of Melbourne Australia). Mr. Jure Lasic and one of his twin sons Mr.Ante Lasic.
His other twin son Ivica who was in the vehicle with his father and brother, was seriously injured, which doctors at the Alfred hospital in Melbourne advise that he is in a satisfactory condition out of life threatening danger. Meanwhile the medical team at the Alfred Hospital were fighting to save Ante's life for two days where he was kept alive by life support machines. Ante was in a serious coma and was pronounced brain dead, the machines were turned off on the 7th of October 1999 a little after noon Ante passed away.
Jure Lasic was born 46 yeras ago in the small village of Sumet in the City of Imotski in the Republic of Croatia, he was one of three sons, he also had two sisters , in a family devoted to Croatia and Croatian nationalizm and patriotizm.
His brother also baptized Jure, but was always refered to as Ivan in the family, who emigrated to Germany also with his younger sister Maria, while the eldest sister Andelka emigrated to Australia and married Vlado Grbavac. Jure who his family refered to as Miro, in the 1970's emigrated and arrived in Australia, While his younger brother Zvonko and family together with his father Ante and mother Anka remained in Imotski in Croatia.
Jure Lasic emigrated to Australia refusing to serve in Tito's yugoslav national army, so from Gemany in 1972 he arrived in Melbourne Australia. He firstly worked as a builders labourer, where he worked extremelly hard to secure a house in St.Albans(a suburb of Melbourne) for himself , his wife Selina, together with his three children, Ante, Ivica, and today eight year old Slava.
Jure Lasic was very closely involved in the Australian Union movement(B.L.F. – A.C.T.U) and for a short time was editor of the newspaper "The Croatian Socialist" which gave the Croatian community new political thoughts and idea's.
He was a devout member of the Croatian movement for Statehood and was one of the organizers and promoters of Bruno Bushich's ideas in Australia, he involved himself in many solo and group actions, from attending to organizing protests and demonstrations, through to scores of hunger strikes for the freedom of Croatian political prisoners, together with open and secret lobbying for Croatian independence in the Australian political circles.
For eight long years of his life, from December 1991 till May 1999. he was the presenter and editor of "Croatian Radio Vukovar" on community radio 3CR in Melbourne, which he was the instigator of. On "Croatian Radio Vukovar" he organized numerous humanitarian appeals where he raised tremendous amounts of funds whether it be for the injured soldiers of the third Imotski Battalion, whether it be for veterans of the two hundred and fourth Battalion from Vukovar, whether it be for two ambulances filled with medical equipment and medicines which Jure in 1992. took to the commanders of the third Osijek Battalion on the Bosnian front lines, whether it be to raise funds for the re-building of the new radio station in Vukovar, whether it be raising funds for new medical equipment for the "Rebro Hospital" in Zagreb Croatia or whether it be funds for the rebuilding of radio stations in Bosnia, Nova Gradiska, Pazin, Gospic, Sibenik and numerous other humanitarian appeals Jure was always in the front lines.
From 1995 Jure presented and edited the first croatian television program in the history of Australia on community television channel 31 in Melbourne, also named "Croatian Television Vukovar"…
Jure Lasic was a powerful and brave man who's uncompromized and radical ideals were not understood by the ordinary people of the general Croatian community in Australia, but with his belief and patriotizm for his beloved Croatia, his ideas and his family….
LET DEAR GOD GIVE EVERLASTING REPOSE TO THE SOULS OF JURE AND ANTE LASIC
Mate Basic
The Croatian Herald – Melbourne Australia
Friday, 8th October 1999.
page 13
FOUNDER OF 'RADIO VUKOVAR MELBOURNE' KILLED IN CAR CRASH
The founder and editor-in-chief of Radio Vukovar in Melbourne, Jure Lasic, was killed in a traffic accident in that Australian city on Tuesday. This was announced on Thursday by the vice-president of the Social Democratic Party (SDP), Zdravko Tomac, who is a personal acquaintance of the Lasic family. Lasic initiated 'Croatian Radio Vukovar' in the capital of Victoria in 1991, a few days after the occupation of Vukovar. In the accident which occurred when a truck hit Lasic's car, both Lasic and his 20 year old son were killed and his other son was injured. 'Radio Vukovar' in Melbourne, headed by Lasic, was the organiser of numerous fund raising activities to aid the Croatian people in the homeland, especially Vukovar.
FOREIGN PRESS BUREAU ZAGREB
Daily Bulletin – No. 210/99
October 8, 1999
http://www.hrvatska.org/vukovar/news.htm
Date: Fri, 08 Oct 1999 14:00:45 +0200 From: Foreign Press Bureau Subject: DAILY BULLETIN – No. 210/99 FOREIGN PRESS BUREAU ZAGREB Daily Bulletin – No. 210/99 October 8, 1999
http://www.hic.hr/hrvatski/vijesti/arhiv/bulletin/1999-10-october/DAILY_BULLETIN_-_No__210_99
Jure Lasic
By Reihana Mohideen
Jure Lasic, a well known Melbourne left-wing activist, died in a car accident on October 4. He was 46 years old. His son, 23-year-old Ante Lasic, died with him.
I came to know Jure when he joined the Melbourne branch of the Democratic Socialist Party in the early 1980s. We worked closely for several years, primarily around campaigns for Croatian national rights. Jure was a left-wing Croatian nationalist; he was also a militant unionist.
Jim McIlroy, today a member of the DSP's national committee and then its Melbourne branch secretary, recalled Jure's first contact with the DSP in 1982. "He came up to me when I was selling in the mall. He bought a copy of Direct Action [the predecessor of Green Left Weekly] and proceeded to give me a lecture on how to sell the paper.
"He declared himself a socialist. I invited him to our office, where we had a long talk. From there on our connections with the progressive wing of the Croatian national movement developed."
Jure was a member of the Croatian Movement for Statehood (HDP), around which the progressives in the Croatian national movement had then gathered. In October 1982 Direct Action carried an interview with Nicola Stedul, then leader of the HDP, who was in exile in Scotland.
In April 1983, at the Karl Marx centenary conference in Melbourne organised by the DSP, a plenary session discussed why socialists should support the campaign for Croatian statehood.
These two events marked a significant turning point for the Australian left which, for all intents and purposes, then equated Croatian nationalism with fascism. The DSP was then under attack from all sections of the Australian left, from the Communist Party of Australia to the Spartacist League, who denied the very possibility of a progressive Croatian nationalism.
The CPA newspaper Tribune spearheaded the attack in articles written by CPA leader Denis Freney; CPA leader Mark Aarons continued it on his radio program. Even the capitalist press, in the form of the Australian, carried an article by David Hirst scurrilously claiming an unholy alliance between the "far left" and the "far right".
Today the existence of the Croatian state is hardly a controversial issue in left circles. But in the 1980s it took a lot of courage and political foresight on the part of the DSP to argue that the Croatian people had a legitimate right to campaign for national self-determination and that it was in the interests of socialists to support this right.
The Croatian national movement in Australia was controlled by the right wing. It took Jure and other Croatian progressives a lot of courage to come out openly as progressives and socialists in the community. I remember the occasion when Jure wore a Che Guevara T-shirt in to the Croatian community club in Footscray. He was beaten up badly and hospitalised.
It's not an exaggeration to say that the DSP's understanding of the "Croatian question" prepared it to weather the disintegration of the former Yugoslavia with the eruption of the national question within its borders. Jure Lasic played a crucial role in this process and made a significant contribution to the socialist movement in this regard.
Jure attempted to pioneer an explicitly socialist organisation in the Croatian community by setting up the Croatian Socialist Party. The tide was too much against him, however, and the project floundered.
Jure was a formidable fighter on several fronts. This included defending Direct Action sellers against the fascist scum in National Action. A lone Direct Action seller being harassed by a National Action thug down Abercrombie Street in Sydney was overjoyed to see Jure walk up. I was told that the thug was chased down the street and ended up "begging for mercy".
It was good to have Jure on side on picket lines. He was often foremost on the frontline pickets of the former Builder Labourers Federation, especially during the period of the deregistration of the union in the mid-1980s.
John Cummins, Victorian president of the construction division of the CFMEU and a former leader of the BLF, had this to say about Jure's role as a union militant: "He was one of the stalwarts. He battled from beginning to end in defending the union. He played a leading role in our picket line activities. He was one of our finest. He had a passion for union and working-class issues which was only surpassed by his passion for the national rights of the Croatian people."
Jure was also a good seller of Direct Action, especially the ones carrying articles on the Croatia, several dozens of which used to be distributed in the community. I saw Jure recently at the memorial of another militant unionist, Norm Gallagher. He smiled and waved. I wish now that I had had the time to talk to him. There are so many other ways in which Jure can be described: "lion hearted", a "colourful figure", brave. Jure Lasic's death is a loss to the progressive movement. He will be missed.
http://jinx.sistm.unsw.edu.au/~greenlft/1999/380/380p9.htm
Jure Lasic – achievements
Croatians rally for refugees – 1992
By Dave Holmes
MELBOURNE — Some 5000 supporters of Croatian independence gathered here on March 22 1992. Footscray Park on a wonderfully sunny Sunday afternoon was the scene for the very relaxed and successful picnic-rally.
The event was organised by the recently formed Friends of Vukovar and the Croatian Coordinating Committee. Vukovar is the Croatian city whose long and heroic resistance to the besieging Serbian army earlier in the conflict made it a symbol of Croatia's will to independence. Today, under occupation by the forces of Serbian leader Slobodan Milosevic, it serves as a reminder that one-third of Croatia's historic national territory remains in foreign hands.
FOV president Jure Lasic chaired the rally. It began with singer Ivica Fonti singing the Croatian national anthem. Fonti later brought tears to the eyes of many with a moving rendition of the "Song to Vukovar". He was backed by the group Vukovar, the leading Croatian band in Australia.
Among those addressing the gathering were Ljubomir Devic, secretary of the FOV, Maria Puric, a survivor of the Vukovar siege, Vinko Duvnjak of the Croatian Democratic Union and Dave Holmes of the Democratic Socialist Party. Catholic priest Marte Krizanac appealed to the crowd to support the FOV's fundraising appeal for Croatian refugees.
There was a strong Macedonian presence during the afternoon. Nick Anastasovski, secretary of the United Macedonians of Victoria, addressed the rally. Two lengthy performances by a Macedonian folk group were well received, and the Macedonian national flag with its distinctive sunburst emblem was very much in evidence.
State Labor MP George Seitz spoke on behalf of premier Joan Kirner. Federal MP Andrew Theophanous represented prime minister Paul Keating on the platform. While his remarks were well received, he was obviously discomfited by the very definite Macedonian accent over the afternoon.
Theophanous, federal MP for Calwell (which includes areas with heavy concentrations of Croatians), heads a parliamentary group supporting Croatia and Slovenia. However, he recently featured on the platform of one of the anti-Macedonian rallies organised by right-wing forces in the Greek community. It can be assumed that not a few Croatians are beginning to see the opportunism of some of their professed friends in the ALP.
http://jinx.sistm.unsw.edu.au/~greenlft/1992/50/50p4.htm
Jure Lasic
When you think about Jure Lasic
Good, hard workin', honest
Yeah Jure was a classic fair dinkum union man
Jure was no big noter, no big wheel
He earnt his livin' by fixin' steel
If a picket line was on Jure was there
He was a man that fair dinkum cared
We remember Jure, with his son Ante, then only 10 years old
with his brother Ivica
standing on the picket line, strong and bold
There with their Dad in the winters cold
in that place called Banana Alley
urging the BLF to rally
Now the years have passed too fast it seems
Jure and Ante had their dreams of a better world for all
a world without treachery
a world without schemes
a world where workers
could fulfil their dreams
http://despard.keep-left.org/jure.html
If you read GLW, listen to 3CR and watch Channel 31, you're set. Wherever there's a serious issue about the rights of workers and questions of social justice and freedom, GLW is always there, very strong and very honest.
GLW has always stood very strong on the issue of the rights of Croatian people.
Jure Lasic
Croatian Radio Vukovar, 3CR and Croatian Television Vukovar, Channel 31
http://jinx.sistm.unsw.edu.au/~greenlft/1997/300/300cen.htm
TRIBUTES TO JURE LASIC IN THE MELBOURNE AUSTRALIAN DAILY PAPER
THE HERALD SUN
7/10/1999 – FROM COLLEAGUES AT COMMUNITY RADIO 3CR IN MELBOURNE
LASIC – JURE. WILL ALWAYS BE REMEMBERED AS A COMITTED AND CONTROVERSIAL BROADCASTER. A VOICE FOR THE LEFT IN THE CROATIAN AND THE WIDER AUSTRALIAN COMMUNITY. DESPITE THE DIFFICULTIES WE THANK YOU FOR NEVER WALKING AWAY. YOU WERE THE CONSCIENCE OF PROGRESSIVE CROATIAN BROADCASTING IN THIS COUNTRY. OUR HEARTS GO OUT TO SALINA, IVICA AND SLAVA. GOODBYE COMRADE! – MANAGEMENT, STAFF AND VOLUNTEERS AT 3CR.
7/10/199 – FROM COLLEAGUES AT THE AUSTRALIAN PROGRESSIVE LABOUR PARTY
LASIC – JURE (SUDDENLY).
WE DEEPLY REGRET THE PASSING OF COMRADE JURE. STAUNCH UNION SUPPORTER AND DEFENDER OF THE OPRESSED.
– MELBOURNE NORTH BRANCH PROGRESSIVE LABOUR PARTY
7/10/1999 – SUSAN DUFFY AND FAMILY – UNION COLLEAGUES
LASIC – JURE (SUDDENLY).
WE HAVE LOST OUR RESPECTED AND LOVED COMRADE, JURE. ALL SYMPATHY TO SELINA AND FAMILY. THE WORLD IS A WORSE PLACE WITHOUT YOU.
– SUSAN DUFFY AND SONS.
10/10/1999 – IVICA & AMANDA FONTI – MARICA & GORDANA CHOK – RADIO COLLEAGUES
LASIC – JURE
DEEPEST SYMPATHY TO SALINA, IVICA AND SLAVA.
EVEN THOUGH WE HAD OUR DIFFERENCES, WE WERE ALWAYS FRIENDS. OUR TIMES ON RADIO VUKOVAR WERE ENJOYABLE AND UNITED OUR FRIENDSHIP FOR THE GOOD AND BAD TIMES.
OUR DEEPEST REGRET ON THE PASSING AWAY OF OUR FRIEND ALWAYS REMEBERED BY US IN GODS CARE WITH YOUR LOVING SON ANTE
– MARICA AND GORDANA CHOK
– IVICA AND AMANDA FONTI